(HMS) The Red Pyramid by Rick Riordan (978-1423113454)
544 Pages
Amazon - $9.99 Library – FREE!
Since his mother's death six years ago, Carter Kane's home has been his suitcase, as he traveling the globe with his father. But while Carter's been home schooled, his younger sister, Sadie, has been living with their grandparents in London. Sadie and Carter are reunited when their father brings them to the British Museum. Soon Carter and Sadie discover that the gods of Ancient Egypt are waking. To save their father, they must embark on a dangerous journey. From the author of the blockbuster best-selling series
Percy Jackson and the Olympians
comes this first installment of the Kane Chronicles.
(CAD) Sucker Punch by David Hernandez (978-0061173301)
224 Pages
Amazon - $13.25 Library – FREE!
It's the summer before senior year, and Marcus should be hanging out, filling his sketchbook, maybe asking a girl out for once. So why is he in a car with his brother, his brother's girl, and the pistol, headed straight toward his dad? David Hernandez writes with striking lyricism and unfaltering poise. Suckerpunch marks the debut of a superb and important new literary talent.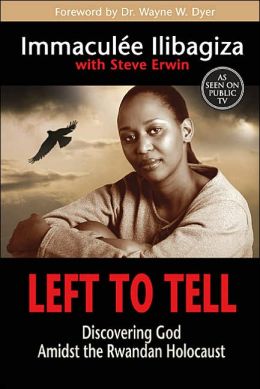 (LSJ) Left to Tell by Immaculee Ilibagiza with Steve Erwin
215 Pages
978-1401908973
Amazon - $10.15
Immaculee Ilibagiza grew up in a country she loved, surrounded by a family she cherished. But in 1994 her idyllic world was ripped apart as Rwanda descended into a bloody genocide. Immaculee's family was brutally murdered during a killing spree that lasted three months and claimed the lives of nearly a million Rwandans. Incredibly, Immaculee survived the slaughter. For 91 days, she and seven other women huddled silently together in the cramped bathroom of a local pastor while hundreds of machete-wielding killers hunted for them. It was during those endless hours of unspeakable terror that Immaculee discovered the power of prayer, eventually shedding her fear of death and forging a profound and lasting relationship with God.